Sean Conway's Guide to Getting Outdoors This Autumn
by Jonny Cartwright / Oct 03, 2022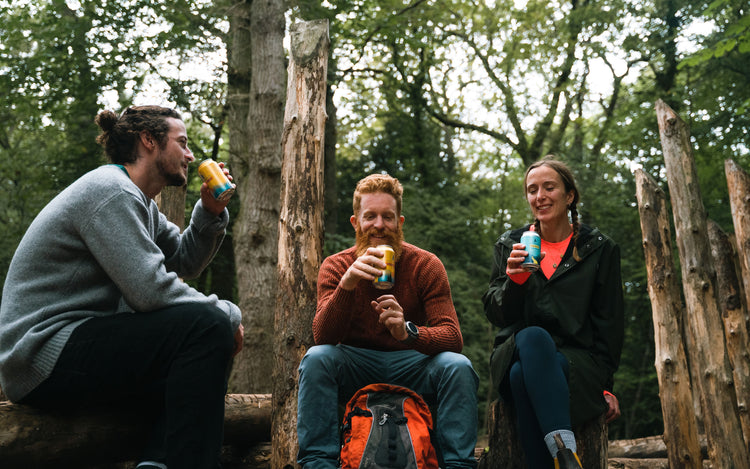 Sean Conway is a record-breaking endurance athlete and the first person to swim, cycle and run the length of Great Britain. An adventurer and Athletic Brewing athlete, we asked him about his favourite season of the year and how you can get outside and enjoy autumn as much as he does.
I think if you asked 100 people what their favourite season was, a large proportion would say autumn. Me especially because I am of the ginger variety and for the next 6 weeks or so, the world around me turns ginger too.
Most people associate the autumn with starting to settle in for the winter. You've started to get the fire going a few nights, you've brought down your winter socks from the attic, and in my case, started to plan this year's entry into the village scarecrow competition, which I won last year I'll have you know. I got a bottle of alcohol-free wine coincidentally. It was crap. Maybe I'll donate some Run Wild to this year's scarecrow competition committee. Anyway, I'm getting off topic. Autumn is often associated with starting to spend more time indoors. But I think it's the BEST time to be doing things outdoors and here's why.
1: It's not too hot or too cold. It's often the perfect temperature to hit the trails or the hills without sweating or freezing to death.
2: It's quieter. Maybe not after everyone reads this blog, but generally you get the hills and trails to yourself.
So with the above in mind here is my guide on how to get outdoors more this autumn.
1: Get some OS maps, or the OS Map App on your phone. Once you can get your head around map reading (which is very simple actually) then your whole world opens up to you and also, you won't get lost as much.
2: There is a saying. 'There's no such thing as bad weather, just soft people'. . . . oh wait. No, 'just wrong clothes'. Now let's be honest, we live on a rainy island so best to prepare. Waterproof socks are great, a good hooded shell jacket and waterproof trousers. Also make sure you have good footwear too. A nice fleece underlay and perhaps a warm pair of mittens. I prefer mittens to standard gloves as they're easier to whip off to, um, take selfies? . . . No. To open your lovely refreshing can of Upside Dawn of course.
3: Put your phone on airplane mode. In the past I'd have said leave your phone at home, but some legal bigwigs informed me that having your phone is an essential safety device and it would be dangerous to advise them to not take it with them. So, take your phone but airplane mode is a must.
4: Food is also something we often forget to take seriously when we head out. Remember, when you've reached the top of the mountain, you're only half way. My pack lunch list always includes the following. Flask of tea. Bottle of water. Apple. Peanut butter and honey wrap. Cheese. Carrot. My wife's banana cake. And, of course, a can of Run Wild.
5: Take your friends. Now as many of you will know I'm mostly a solo guy. I far prefer going off, by myself, allowing the 'road' to take me where it takes me, but as in the famous words of Alexander Supertramp from the film, Into The Wild; 'Happiness only real when shared'. So gather your clan, find a point on the map that you've never been too before, and just go there.
6: Go somewhere new. This for me has to be one of the best parts of getting out this autumn, Exploring somewhere you have never been before. At first it may be daunting, especially if the weather is a bit pants, and you're unfamiliar with your environment, but if you've got the right kit, have enough food and water and have a map, then there is nothing to be afraid of. BUT, and this is a big but, don't be afraid to turn back. I've not summited Mount Snowdon more times than I have because I've turned back because of bad conditions.
7: Slow down. This is one of the most important parts of getting outdoors this autumn. Slow down. I think you'll admit we spend most of our lives surrounded by white noise, TV, social media, kids screaming the house down, the neighbours lawnmower, police sirens etc. This brain scramble can continue far into the hills but don't let it. When I'm far away from everything I look up, take a few deep breaths and try and listen for the quietest noise I can find. This resets my 'white-noise-ometer' and allows me to absorb all the benefits of being outdoors.
8: Just go. Don't wait for the right time, the right conditions, the right group of friends. Just go outdoors now. The more you do it, the more you'll love it, I promise you that. If you wait for all the stars to align you may miss the beautiful autumn window. Autumn is fleeting and before you know it we'll be into the depth of winter, which don't get me wrong, has its beauties too, but for me, it's all about getting outside in autumn, my favourite time of year.